Troubled Due To VBA Protection? Remove VBA Protection
You might have applied protection to your VBA Projects (passwords needed to view & edit the VBA source code projects in MS Office documents like Word, Excel & PowerPoint etc) in order to protect the code that you created from it. Have you been the victim of an unfortunate event of forgetting your VBA password and now troubled due to it?
VBA Password Remover is something you might be looking for! Using this, you can retrieve vba password from Excel, Word, PowerPoint password, Access, Outlook passwords and unlock VBA files of other MS Office utilities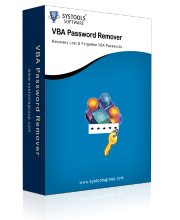 Exact Process for VBA Password Removal
At first, our software scans your protected VBA files. Then, our tool will reset VBA password and overwrites original password with a new password, which is assigned to the VBA file. Using this, you can unlock VBA files. This freshly created password works as your new working password.
FREE Version – Demo Facility!
Using Free Demo Version of VBA Password Remover, you can recover 2 characters of your changed VBA password.
List of Software Features:
Easily recover VBA passwords of any length
Copy recovered passwords to clipboard or file
Easily recover multilingual passwords also
Recover VBA passwords from .doc files, .xla files, & .xls files
You get backup of original VBA project file
Supported Versions
Remove VBA Protection - VBA Password Remover Works with Windows 7, Vista, 2003, XP, and 2000. Supported Office versions are 2003/XP/2000/97
Full Version: Remove VBA Protection completely and recover complete changed VBA password with all its characters using the Full Licensed Version of VBA Password Remover software.
Online Support